Village Savings and Loan Associations (VSLA)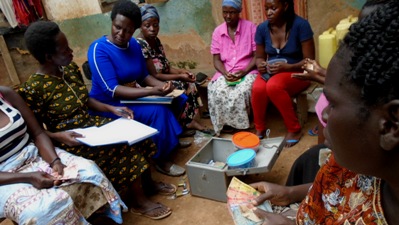 KAFOC supports VSLA groups within the communities of its jurisdiction. Parents who live within the same clusters come together and form the VSLA groups and they start saving and they can then borrow the money if the need arises. Members are trained in responsibility sharing, group dynamics, following the group constitutions which are made by the members them selves and saving with a purpose not just saving for its sake. Group members are lectured about sharing responsibility and keeping accurate records of passbooks to ensure that all members are actively involved in the affairs of the group and to also ensure that there are no losses for the group. At the end of the saving day, all the money saved is banked in the bank to ensure safety of members savings.
A women'savings group of Bbinna community in one of their weekly sittings. They meet on a weekly basis and save as well as disburse loans to members and the loans are paid back with an interest that benefits all members.