Education Week 2018.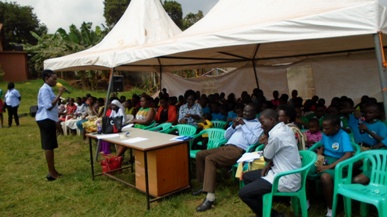 The Education Week for this year was commemorated at Nakulabye Social Service Centre in Nakulabye. Selected Children of Primary six and Primary Seven from all the other three supported projects of Bbinna, Mbuya, and Kireka including Nakulabye all converged at Nakulabye Social Service Centre and participated in Quiz competitions, which were conducted by their teachers and would go a long way in improving the literacy and numeracy skills of the children as well as their mental abilities. They also participated in co -curricular activities Such as Bottle filling, Plate filling, and Aerobics. This would also improve the psychomotor development of the children.
The theme for this year's Education Week was "Education is key to a child's development"
Below Left; the motivational speaker talks to the children during the event. He advised the children to take good care of themselves since they are still growing. He also advised them to refrain from running affairs with children of the opposite sex but only focus on their education since they will have enough time to have relationships when they complete their studies.
Below Right; the KAFOC Programme Manager(P.M) gives the children some words of wisdom. She encouraged the children to work hard and achieve good results because if they concentrate on their studies, only the sky can be the limit for them.