Day Of The African Child (DAC)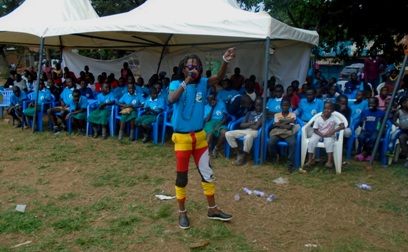 KAFOC joins entire Africa in celebrating the Day of the African Child every year. A representative sample of the children is selected from all the four supported projects of KAFOC to participate in the event and this year's celebration was held at Luzira Secondary School playgrounds. Children showcased the different talents that they have, and the children from the Bbinna community composed a KAFOC song that is already recorded and out. They played games such as football, Netball, plate filling, Aerobics, and many others which were done on an inter-community competition basis. Youths and Alumni from the Bbinna community also played a skit depicting child participation in the affairs of the family. The resolution was to make the world a safer place for all children and also end violence against children. The guest of honor for the event was the KCCA OVC supervisor.
The theme for this year was "Leave no child behind for Uganda's development youth from the Bbinna community entertain guests and other children during the KAFOC Day of African Child Celebrations.