DAY OF THE AFRICAN CHILD 2019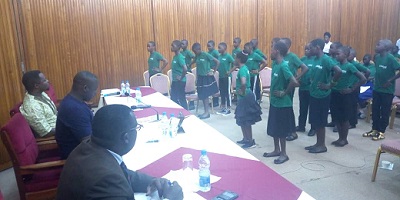 The Day of the African Child (DAC) commemoration is due to be held this month on the 16/06/2019. This is the time that the government and development partners of different African states reflect and evaluate the efforts that have been made to make the continent a better place for the African child – achievements, challenges and way forward. In Uganda, KAFOC has been preparing for this day by holding a Pre – (DAC) celebration at the parliament of Uganda where children of KAFOC and Acholi Child and family Programme (ACFP) were invited to participate. The children presented Poems and Skits that were intended depict the challenges that the African child faces to Members of Parliament who sit on the Uganda Parliamentary Forum for Children committee. The children among others talked about the different challenges that they face like floods in the city whenever it rains that prevents them from going to school, children in conflict with the law who have found a safe haven on the streets, child kidnap and sacrifice in pursuit for wealth and sexual abuse. The children also lamented that the culprits caught in these offences are minimally punished or not punished at all due to the weaknesses in the judicial and police systems of the country. They therefore urged the policy makers to help influence policies that are made to help safe guard children's rights so that the country is a better place for the children.
The theme for this years celebration was "Putting the Ugandan Child at the heart of sustainable development" – Act Now.
Above: Children present a poem to the members of the Uganda Parliamentary Forum for the Children in a Pre DAC commemoration at the conference hall in the Parliament of Uganda.