GOVERNANCE AND LEADERSHIP OF THE ORGANISATION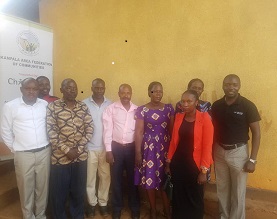 Kampala Area Federation of Communities (KAFOC) has been in the process of electing new leaders who will form the governance structure of the organisation and will lead the organisation for the next five years which is the new extended term of office. This process started from the Cluster levels which are the family groups in which the parents of KAFOC across all the four communities ordinarily reside/live. The process of electing leaders from the clusters therefore started in May this year and the successful candidates proceeded and contested for the next level of leadership in their communities. The elected leaders who represented their zones were then sent to the zonal level and they contested to be elected as the representatives of the parents at the PEC level. They leaders elected from this level were then amalgamated to form a general assembly where by the Board members which is the supreme governing body of the organisation was elected. The elected members will steer the organisation for the next five years in office.
Above: The elected board members pose for a photo with election presiding officers from sister organisations.